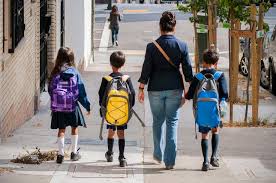 Parents Unite. We made it through the first week of school. Granted it was a short week but still... And while our minds shift from lazy days at the cottage sipping frosty beverages by the dock to the daily grind of school drop offs, after school programs and homework, one thing is for sure...the real estate market never sleeps. Sure it ebbs and flows but it is alive and well in the 416.
The freehold sector witnessed a 41% increase in new listings last week which clearly signaled the start of the fall market. As we have seen time and time again, there is a week long lag in sales as holdbacks to offer night afford ample opportunity to view homes. Last week was no surprise. Sales were lower than the previous week (mostly due to one less day of trading) even though almost 62% of the homes that did sell sold at or above the list price. The problem of low inventory becomes more recognizable when you consider that a year ago we had over twice as many listings and three times as many sales.
The condominium sector remains strong last week with a more modest 22.5% increase in new listings and while sales backed off by 68% (due mostly to the holiday Monday), we still recorded a healthy percentage of properties trading at or above the list price (35.6%). It was last year at this time that we started to see a noticeable shift in competition for condos when the percentage of sales at or above the list price started to trend above 20%.
Bosley Real Estate Ltd. is a full service boutique brokerage operating in Toronto, Niagara-on-the-Lake, Jordan and Port Hope, Ontario since 1928. We have four centrally located offices and over 250 sales representatives selling and leasing homes and condominiums in all the vibrant communities we work in. Our brand is well recognized internationally thanks to our unique affiliation with Leading Real Estate Companies of the World. Our sales teams meet weekly to discuss market conditions, trending topics, and anecdotes that more accurately reflect the true temperature of the real estate market.